Treasure Island
Explore Sri Lanka's diverse cultural treasures
Destinations
Sri Lanka
Activity
Nature & Wildlife, Culture & History, Luxury
Good to know
22 nights in top class boutique and luxury properties
Private tour, year-round departures
Private chauffeur guide
Custom itineraries - change days or hotels as required
This Sri Lanka luxury holiday odyssey is an experiential masterpiece. To the uninitiated, the dizzying diversity of a tour of Sri Lanka can be overwhelming. Yonder's 22-night Treasure Island itinerary takes all the confusion away, while covering a lot of jaw-dropping ground by planes, trains and automobiles, always delivering you to superlative handpicked accommodation.
This is a suggested itinerary which can be tailored to suit your requirements. Get in touch and one of Yonder's travel advisors will be happy to help.
Itinerary
What you'll see and do
Day 1 - 2
Colombo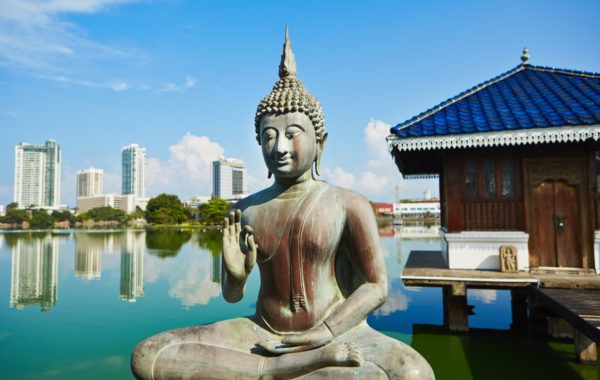 As you swoop down towards Colombo, you'll experience just a little taster of what awaits with palm trees and a cobalt blue lagoon stretching as far as the eye can see. Your Yonder chauffeur-guide will be waiting to whisk you off on a short journey to The Wallawwa, a beautiful old manor house, where you will recuperate after your flight.
Example accommodation
The Wallawwa
The Wallawwa hotel is an oasis of calm just 20 minutes from the airport near Colombo. It is the place to recuperate after a long flight before heading off on a tour of Sri Lanka. Or if you prefer your preparations before flying home to be leisurely, it's ideal.
Day 2 - 4
Cultural Triangle
You'll be driven north towards the ancient capital of Anuradhapura, which sprang up around Buddha's 'tree of enlightenment' for your first big cultural fix. Arriving in the afternoon, you'll check into Ulagalla, a firm Yonder favourite with its individual pavilion rooms blending into the paddyfields. You'll have a full day to explore the evocative sites that surround the sacred city which served as Sri Lanka's capital for 1,300 years.
Example accommodation
Ulagalla
If romance for you is all about being up close to nature, Ulagalla, in the heart of Sri Lanka's Cultural Triangle, will quickly have your heart missing a beat as you encounter monkeys, peacocks and lumbering elephants while wandering hand-in-hand through glorious acres.
Day 4 - 6
Jaffna
An early start to catch the express train to Jaffna in the far north. It's a three-hour journey winding through villages and over the fertile plains of the north of Sri Lanka. Arriving around lunchtime, it's short hop to the Jetwing Jaffna in the centre of town. You'll venture out in the afternoon with your guide to discover the delights of Jaffna, from its extraordinary library to the vibrant Nallur Hindu temple. And there will be time to explore on your own in a fascinating time warp city where the pause button has only just been released.
Example accommodation
Jetwing Jaffna
Brand new in 2016, the Jetwing Jaffna is the only modern hotel in Jaffna, Sri Lanka, that can offer comfort and international standards. It's a bit bland and, unusually for a Jetwing, doesn't have much in the way of facilities at the moment however its location is superb. It's in the centre of town and just a five-minute drive from the train station.
Day 6 - 8
Cultural Triangle
Your faithful chauffeur-guide will be waiting on the doorstep to transport you back towards the Cultural Triangle. This time your destination will be the colossal rock fortress at Sigiriya, with its buxom maidens frescoed on the upper cave walls. As you sit back at sunset with G&T in hand at Vil Uyana, the natural monolith with its near vertical walls will form a remarkable backdrop. You'll stage an assent in the morning, leaving the afternoon free to kick back around the pool.

Example accommodation
Vil Uyana
Uniquely situated amongst the reed beds and paddy fields in the shadow of mighty Sigiriya, in Sri Lanka's Cultural Triangle, Vil Uyana was described by the discerning hedonists at Harper's Baazar magazine as the best eco luxury hotel in Sri Lanka. It's got some pretty stiff competition, but it's not an accolade we can take issue with.
Day 8 - 11
Kandy
En route to Kandy, you'll swing past the five spectacular caves at Dambulla, replete with stunning art and countless Buddha statues, which have drawn pilgrims for over 2,000 years. Arriving at Kandy House, your home in Kandy, in the early afternoon leaves plenty of time to refuel on the delicious cuisine and have a lazy afternoon. There's a lot going on in Kandy and you'll want to tick off a few key sites, including the phenomenal botanical gardens and the sacred Temple of the Tooth. And if you have the energy, your guide will be on hand to escort you to some of the lesser known, fascinating sites, such as the spice market, costume museum and old British military cemetery.
Example accommodation
Kandy House
Without doubt, the number one hotel in Kandy, Sri Lanka. But it is small with only nine rooms and competition to get a reservation is intense. This exceptionally pretty old manor house, with its seven trademark arches enclosing the front verandah, has been skilfully converted into a boutique hotel with style and charm. It takes about 15 minutes for your driver to take you here from the centre of Kandy. Once, inside you'll get an immediate sense of the extraordinary; soothed by the sense of serenity and calm.
Day 11 - 14
Tea Country
The rolling green hills, swirling mists in the valleys and sheer silence… Tea country will steal your heart. And getting here, on the rumbling train from Kandy, is a journey that will linger in the memory. You'll disembark in Nuwara Eliya, known as Little England, before continuing by car to Living Heritage Koslanda, your boutique bolthole perched high in the hills with a view that is an Instagram magnet. And you'll learn a good deal about those aromatic leaves that make up the UK's favourite beverage.
Example accommodation
Living Heritage Koslanda
Living Heritage Koslanda is a perfectly formed bundle of joy. Sitting in its own vast estate, surrounded by forest, with awesome views over Sri Lanka's rolling tea plantations. It's beautifully created by local craftsmen, with the blueprint coming from the highly respected Sri Lankan architect Channa Daswatte; classic Sri Lankan architecture guided by astrological principles, combined with the ultimate requirements of contemporary lifestyle.
Day 14 - 15
Udawalawe National Park
Udawalawe is widely considered the best spot in Sri Lanka for seeing elephants. And you'll be hanging out with the pachyderms amongst scenery that will take your breath away. At its heart, an endless lake shimmers in the sun, teeming with birdlife, with all kinds of creatures drinking at its banks. In the scrub, you'll encounter Elephas Maximus, the Asian elephant, of which the Sri Lankan is the largest subspecies. Home for a night will be the Mahoora Safari camp on the edge of the park.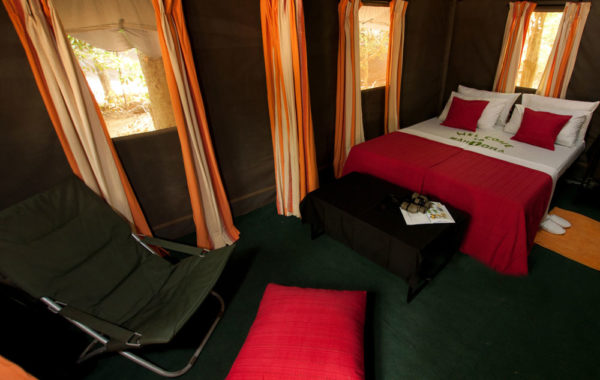 Example accommodation
Mahoora Safari camp
Mahoora Safari Camp has a stunning location on the edge of a watering hole in Sri Lanka's Uda Walawe national park and beside a huge granite rock. You'll almost certainly hear elephants from the camp and on the odd occasion you'll see them at the water's edge.
Day 15 - 17
Yala National Park
From elephants to leopards and from sloth bears to jackals , Yala has it all. Flanked by the ocean to the east, Yala is spectacularly beautiful, with dense scrub, arid savannah-like plains and a maze of watercourses. Leopard fever sets in as you enter the park. With the world's greatest concentration, Yala is a mecca for those who seek a first-hand encounter with this awesome predator. But it isn't all about the big cat. There are all creatures great and small here and the smaller creatures are no less spectacular. What's more, the birdlife is an ornithologist's dream come true and the reptiles will leave you awestruck. And you'll be no less impressed when you check into Chena Huts, one of Yonder's favourites.
Example accommodation
Chena Huts
Chena Huts at Sri Lanka's Yala National Park was one of our top picks for 2017. It is newly opened and is the latest member of the estimable Uga Escapes group's world-renowned portfolio of luxury boutique hotels.
Day 17 - 21
Galle and the Southern Beaches
After a couple of weeks on the road, you'll be longing for some sand between your toes and the sound of the crashing waves. But be assured, this is a long way from pina colada territory and burnt Brits. The Frangipani Tree, a short distance from the old fort of Galle, will envelope you in perfection for a few nights. Here, you can be a lazy lounger, swim, walk along the beach or go out on your own to discover the many exciting possibilities all within a short ride in a tuk-tuk.
Example accommodation
The Frangipani Tree
Arriving at the Frangipani Tree in Galle, Sri Lanka, is like meeting up with an old friend who becomes more and more fun as the years go by. The hotel is a long-standing favourite and each time we come back the welcome is warmer than the last. There is a familiar frisson of excitement every time our driver delivers us to the door. The Frangipani Tree occupies one of the best spots on Thalpe beach, with a seascape to die for. And with the rooms named after gentle but endangered turtles, you'll have an immediate sense of the kind of amazing marine life on the doorstep.
Day 22 - 23
Colombo
As your tailor-made tour of Sri Lanka approaches its end, you'll spend your final night in Colombo. Your last stop will be Tintagel, a serious sexy converted old mansion, once the home of the world's first female prime minister. Colombo is a buzzing cosmopolitan city, with an ever increasing appetite for great restaurants and tasteful shopping. If you want a final culture fix, there is plenty to see and do, from the national museum to Independence Square.
Example accommodation
Tintagel
Tintagel Colombo is the most exclusive address in Sri Lanka's capital. The former residence of the world's first female prime minister oozes elegance, opulence and style. It is now the leading Colombo boutique hotel and you'll quickly realise why. A sensational mix of classic deco Sri Lankan architecture, liberally dressed in dark mood colours, and discrete service make these digs some of the sexiest in the Indian subcontinent.
Treasure Island
What's included & what's not included
| | | |
| --- | --- | --- |
| | Accommodation | 22 nights in Yonder's hand-selected luxury properties. |
| | Guide | Private chauffeur guide. |
| | Meals | All breakfasts are included. Lunches, evening meals and drinks are included where mentioned. |
| | Transport | All ground transport and connections in a private car. |
| | Flights | International flights are not included but can be arranged on request. |
Expert travel advice
No commitment to book
Best prices
This tour is operated by
Yonder
Enquire now
Contact Yonder about this trip
Send your details to the travel advisors at Yonder for more information about this trip.
Why Horizon?
Free, expert travel advice
No commitment to book
Best price guaranteed
You're secure
Your details are stored securely according to our privacy policy and will never be sold or used for any other purpose.