Kyrgyzstan to Uzbekistan
Land of nomads and Silk Road traders
Destinations
Kyrgyzstan, Uzbekistan
Activity
Nature & Wildlife, Culture & History, Hiking
Tour Type
Group tour
Accommodation
Standard
Physical Level
Moderate
Season
January - December
Good to know
Operated by Kalpak Travel, the leading Central Asia specialists
Small group tour: max 12 people
Guaranteed departures
Expert local guides
24/7 support
For well over a thousand years, merchants carried their wares over remote mountain passes in Kyrgyzstan, along verdant river valleys and through the great Silk Road cities of Uzbekistan. These nomads, conquerors, and settlers left behind an architectural legacy that draws on forgotten empires and ancient religions. Uzbekistan has been awarded UNESCO World Heritage status for its age-old cities: Bukhara, Khiva, and Samarkand, arguably the jewel in the country's dazzling crown. Central Asian mosques, madrassas, fortresses, and bazaars combine to create a timeless atmosphere, while out in the countryside, the country's incredible landscapes will capture both your imagination and your heart.

Itinerary
What you'll see and do
Day 1
Arrival in Bishkek & Ala Archa National Park
Your first day in Kyrgyzstan begins in Bishkek. After you've checked-in to your hotel, you'll drive onto Ala Archa National Park, around 30km outside of the city. Your guide will take you for a scenic walk before heading back into Bishkek centre for a sightseeing tour, where you'll have the opportunity to buy trinkets at Osh Bazaar.
Includes: breakfast, lunch, dinner
Example accommodation
Hotel Plaza
A contemporary, stylish hotel located in the heart of the city with large, comfortable rooms, spa and wellness centre and an indoor pool.
Day 2
Bishkek – Tosor yurt camp
Leaving the city behind, your next destination is Burana Tower in Tokmok. This minaret was built in the 11th-century, and features a winding staircase leading to stunning views of the Chun Valley. From here you'll continue onto lake Issy Kul - the second largest mountain lake in the world. The area is popular for its yurts, which will be your accommodation for the evening.
Includes: breakfast, lunch, dinner
Example accommodation
Overnight in yurt camp
Each yurt sleeps two-four people with western-style toilet and warm water showers.
Day 3
Tosor – Kochkor
Wake up on the banks of Issyk Kul and enjoy breakfast with a view before driving westwards along the southern shore of the lake. From there you'll head onto Skazka Canyon, which is awash with burnished reds, ochres and yellows from exposed sedimentary rocks. After a short hike, your guide will introduce you to an eagle hunter in the village of Bokonbaevo before driving onwards to Kochkor.
Includes: breakfast, lunch, dinner
Example accommodation
Adamkalay Guesthouse
Spend the night in a local guesthouse, with simple but comfortable rooms, a shared western-style toilet and shower.
Day 4
Kochkor – Song Kul Lake
Journey across the Song-Kul Mountains and into the lake's basin. This mountain lake sits in the centre of Kyrgyzstan at 3,016m above sea level. The lake is known as the 'nomad's paradise'. There will also be an opportunity to go on a short horse ride.
Includes: breakfast, lunch, dinner
Example accommodation
Overnight in yurt camp
Enjoy stargazing in this remote location. Each yurt sleeps two-four people with western-style toilet and warm water showers.
Day 5
Song Kul – Bishkek – Osh
Enjoy breakfast in the 'nomad's paradise' before heading back to Kochkor for lunch. From here, your guide will drive you back to Bishkek to catch an evening flight to Kyrgyzstan's second largest city, Osh.
Includes: breakfast, lunch, dinner
Example accommodation
Sunrise Osh
Conveniently located in the center of Osh, just a 15-minute drive from the airport and a 2-minute walk from the Osh Central Mosque.
Day 6
Osh city tour – Fergana
Wake up after a relaxing nights sleep and head to the Suleiman Mountain - and UNESCO World Heritage Site. Nicknamed 'Little Mecca', this sacred mountain is a place of Muslim and pre-Muslim pilgrimage. From here you'll transfer to Kyrgyz-Uzbek border and travel a scenic road to Fergana.
Includes: breakfast, lunch, dinner
Example accommodation
Hotel Asia
A well-maintained hotel located next to the city mayor's office. Enjoy the on-site swimming pool and sauna during the summer months.
Day 7
Fergana – Kokand – Tashkent
This area of Uzbekistan is famous for its agriculture and artisans. Your guide will take you to the Yodgorlik silk workshop to observe the intricate silk-making process before heading onto Rishtan - a town famous for its ceramics. From Rishtan you'll travel onto Kokland for a short sightseeing tour of Khudayar Khan's Palace and Jami Mosque before taking an evening train to Tashkent.
Includes: breakfast, lunch, dinner
Example accommodation
Hotel Wyndham
Located in the heart of the city, this recently renovated hotel offers sleek, contemporary hotel rooms with free Wifi, a Spa and Wellness Centre and a currency exchange office.
Day 8
Tashkent city tour
As the largest city in Central Asia, Tashkent's Old City is steeped in history. Discover the Quran of Caliph Osman, meet locals and traders at Chor-Su Bazaar and explore Amir Temur Square to see the eponymous monument of the great conqueror.
Includes: breakfast, lunch, dinner
Day 9
Tashkent - Khiva city tour
After an early flight to Urgench you'll board a bus to Khiva, in the western part of Uzbekistan. Upon arrival at Khiva you will visit the walled inner-city – Ichan-Kala – which preserves more than fifty historic monuments and hundreds of houses. Stop to marvel at the panoramic views of Old Khiva at the top of Kunya-Ark Citadel.
Includes: breakfast, lunch, dinner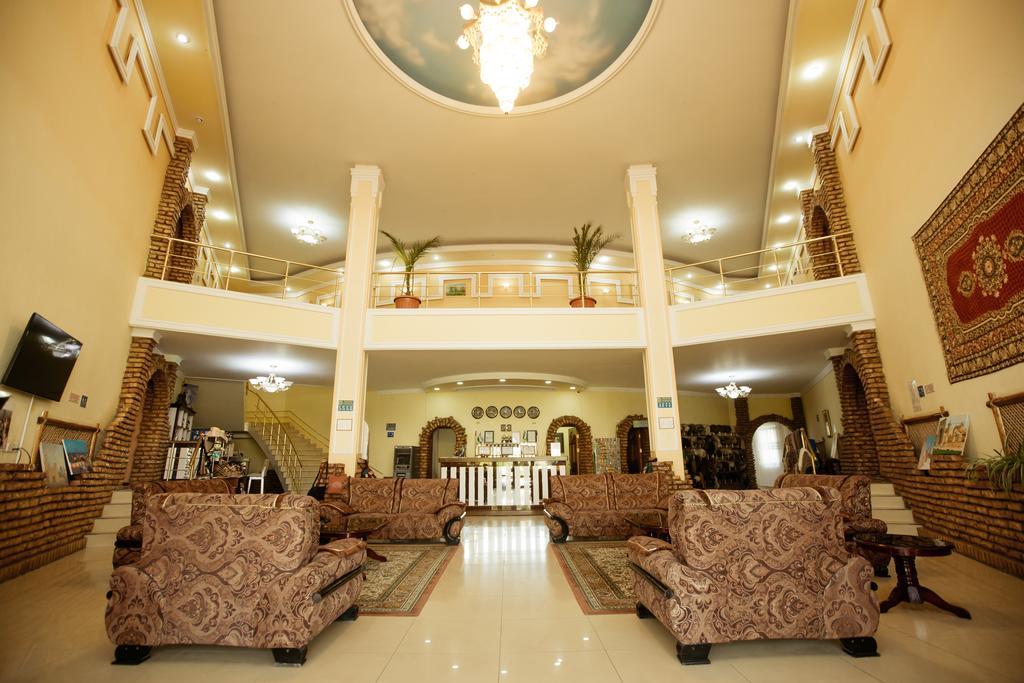 Example accommodation
Hotel Asia Khiva
A modern hotel located just moments from the historic sights of the city, with air conditioning, an on-site restaurant and swimming pool.
Day 10
Day trip to Khorezm - Bukhara
Experience the desert ruins of ancient Khorezm, which are said to rate back to the 2nd-century BC. Visit Toprak-Kala and Ayaz-Kala to learn more about the archaeological discoveries in this area. After lunch in a yurt camp, your guide will escort you back to Khiva for some free time before a short evening flight to Bukhara.
Includes: breakfast, lunch, dinner
Example accommodation
Komil Boutique Hotel
Located in Bukhara's Old Town, this hotel features a 19th-century dining room, oriental-style decor and elegant wooden furniture. Soak up the culture in the heart of the city.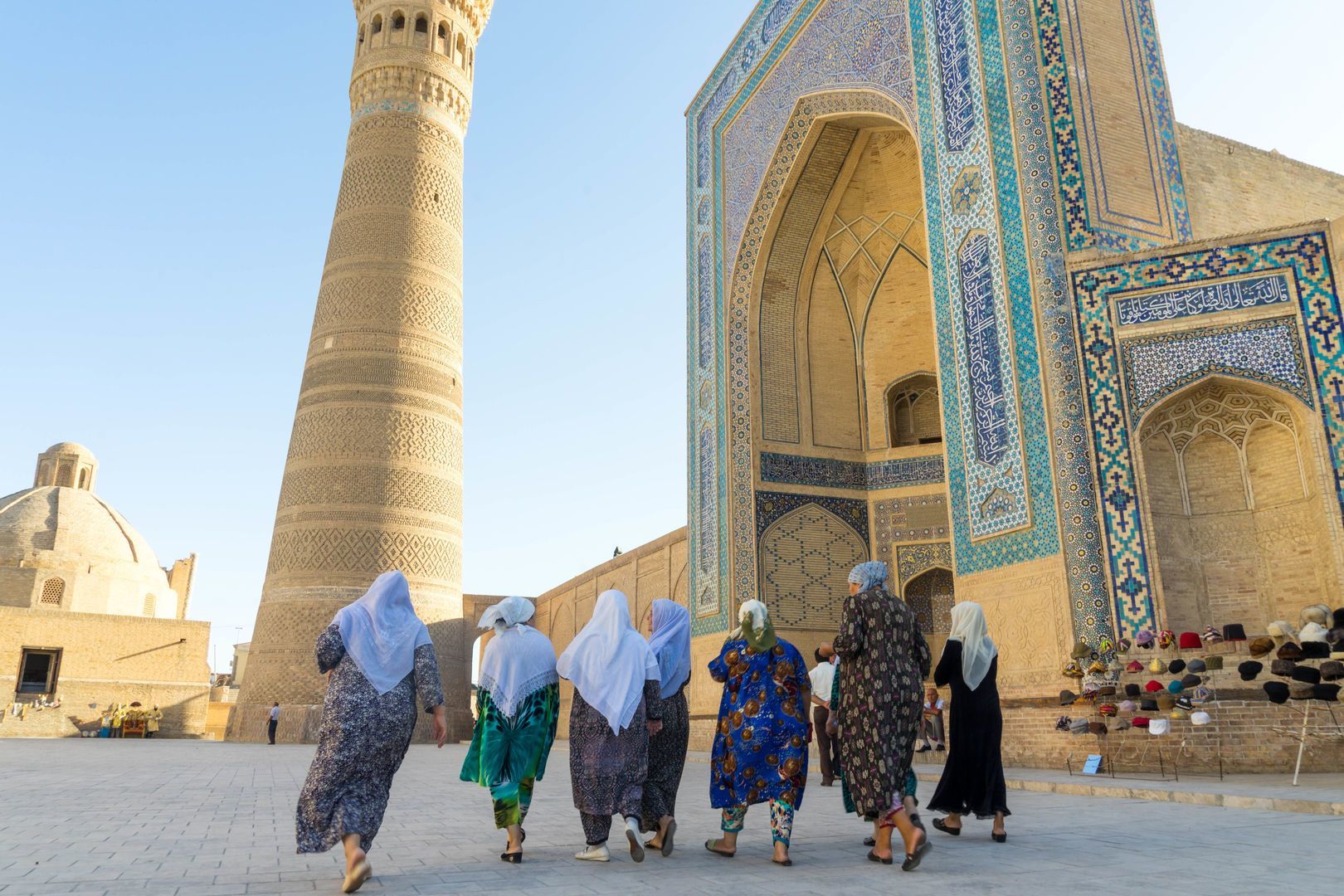 Day 11
Bukhara city tour
As a key stop-off for traders on the Silk Road, Bukhara is steeped in history. The Old Town has been well-preserved and offers an exciting look at ancient minarets, mosques and madrassas. Taste traditional Uzbek food, plov, as cooked by a local family. You'll then have the opportunity to see how Suzani - an Uzbek embroidered textile - is created.
Includes: breakfast, lunch, dinner
Day 12
Bukhara – Samarkand
After breakfast you'll depart from Bukhara and journey to madrasah Chor-Minor, which translates as 'four minarets'. Next, you'll visit the summer residence of the last Emir of Bukhara (Sitorai Mokhi Hossa), which means 'the place where the moon meets the stars' in Persian. Your guide will drive you back to Bukhara for lunch before connecting via high-speed train to Samarkand.
Includes: breakfast, lunch, dinner
Example accommodation
Hotel Malika Prime
Just a stone's throw from the Amir Temur Monument, this hotel has a beautiful terrace, free WiFi and orient-style design features.
Day 13
Samarkand city tour
Wake up for your first full day in Samarkand – a mythical city full of romance and intrigue. Once the domain of Timur – one of history's greatest conquerors – much of the traditional architecture and heritage has been beautifully preserved. Head to the spectacular Registan Square before embarking on tour of Ulugbek observatory, one of the largest research centres in Central Asia. After lunch you'll head to the impressive Bibi Khanum Mosque and sample local delights at Siyob Bazaar.
Includes: breakfast, lunch, dinner
Day 14
Samarkand - Tashkent
Samarkand is not only famous for its monuments, but also for its paper. Samarkand paper was produced by hand from the bark of mulberry (silk) trees, and is still in production today in the village of Koni Ghil. After a visit to the famous paper workshop you'll head to the Afrasiab Museum and the Tomb of Saint Daniel before learning how to make typical Uzbek bread. In the late afternoon you'll board a train to Tashkent for dinner.
Includes: breakfast, lunch, dinner
Example accommodation
Hotel Sharq
Your adventure is almost at an end, but this hotel is the perfect place for a final farewell with your group. With spacious rooms, an outdoor pool and beautiful decor, end your Uzbekistan chapter in style.
Day 15
Departure
After one final breakfast it's time for your transfer to the airport for your flight back home. Say goodbye to your companions and Central Asia - perhaps you'll return again soon!
Includes: breakfast
What people are saying
K
Kenneth A
01/06/2018
We were delighted by the wonderful two-week trip to Kyrgyzstan and Uzbekistan created by Kalpak travel. Prior to the trip, Luca (co-founder and owner) provided prompt, thorough, and accurate responses to our months of questions about safety, weather, and cultural norms. He also provided a complete itinerary of each day's activities so we knew exactly what to expect every day. During the first week in Kyrgyzstan, we swam in Lake Issyk Kul (the second largest mountain lake in the world). We also hiked in Ala Archa National Park and in the remote summer pastures of Song Kul Lake where horses, cows, and sheep grazed freely among the yurts where shepherds live. These pristine outdoor experiences were complemented by the second week in which we visited exquisite mosques, madrassas and mausoleums of the ancient but vibrant cities of Samarkand, Bukhara and Khiva. The bus, train and plane trips between these places were expertly choreographed by our competent, knowledgeable, and likeable guides. We observed craftsmen and artisans who practice the traditional skills of eagle-hunting, silk weaving, yurt building, paper making and pottery painting. We spent two nights in yurts: the remaining nights were spent in comfortable, lovely and well-located 3 to 5-star hotels that served sumptuous breakfasts. We can't imagine a better experience than the trip orchestrated by Kalpak travel in this unique part of the world.
P
Peter F, Australia
11/07/2018
I did the Kyrgyzstan-Uzbekistan tour. The route was carefully chosen with many beautiful natural and historic sites to experience, and there was never a boring moment. The guides are incredibly knowledgeable and extremely friendly, and despite the unpredictability associated with travelling in some of the remote areas we did, the incredible organisation of Kalpak meant there was never a single worry. You really do get the experience that you pay for!
Upcoming departures
This trip is available as a private tour
Private tours with custom itineraries and flexible departure dates are available. Please contact Kalpak Travel for more information.
Enquire now
Good to know
Operated by Kalpak Travel, the leading Central Asia specialists
Small group tour: max 12 people
Guaranteed departures
Expert local guides
24/7 support
Kyrgyzstan to Uzbekistan
What's included & what's not included
Accommodation

13 nights in carefully-selected, quality assured hotels.
Two nights in traditional Yurt camp.

Guide

Expert, English-speaking guides and fully escorted tours in every destination.

Meals

Full board (15 breakfasts, 14 lunches, 14 dinners).


Transport

All road transport, rail tickets, airport/hotel transfers and internal/domestic flights.

Flights

All internal flights included.
Free, expert travel advice
No commitment to book
Price guarantee
This tour is operated by
Kalpak Travel
Enquire now
Contact Kalpak Travel about this trip
Send your details to the travel advisors at Kalpak Travel for more information about this trip.
Why Horizon?
Free, expert travel advice
No commitment to book
Best price guaranteed
You're secure
Your details are stored securely according to our privacy policy and will never be sold or used for any other purpose.