Historical cities of the Silk Road
In the footsteps of Marco Polo
Destinations
Kazakhstan, Kyrgyzstan, Tajikistan, Turkmenistan, Uzbekistan
Activity
Culture & History, Cities
Tour Type
Group tour
Accommodation
Superior
Physical Level
Easy
Season
January - December
Good to know
Operated by Kalpak Travel, the leading Central Asia specialists
Small group tour: max 12 people
Guaranteed departures
Expert local guides
24/7 support
This small group escorted tour winds through some of the most historical cities of the ancient Silk Road. You'll explore the treasures and traditions of the nomadic people who have crossed the region for millennia, and of the people who have settled in its cities. Visit the sprawling Soviet-era cities and tour three modern capitals of Central Asia. Absorb the architectural legacies of flourishing Islamic culture and the great Timurid Empire in Samarkand, Bukhara & Khiva. In one trip you'll experience centuries of the Central Asian Silk Road.

Itinerary
What you'll see and do
Day 1
Arrival in Tashkent
Your guide will meet you at arrivals and whisk you to your hotel to get settled. After breakfast and a chance to meet your fellow companions you'll head out on your first guided tour.
There's nowhere better to start your tour of Uzbekistan than in the capital city of Tashkent. The largest city in Central Asia, Tashkent is an excellent introduction to Uzbekistan old and new. You'll visit the Old City to discover the Quran of Caliph Osman, meet locals and traders at Chor-Su Bazaar and explore Amir Temur Square to see the eponymous monument of the great conqueror.
Includes: breakfast, lunch, dinner
Example accommodation
Hotel Wyndham
Located in the heart of the city, this recently renovated hotel offers sleek, contemporary hotel rooms with free Wifi, a Spa and Wellness Centre and a currency exchange office.
Day 2
Tashkent - Urgench - Khiva
After an early flight to Urgench you'll board a bus to Khiva, in the western part of Uzbekistan. Upon arrival at Khiva you will visit the walled inner-city – Ichan-Kala – which preserves more than fifty historic monuments and hundreds of houses. Stop to marvel at the panoramic views of Old Khiva at the top of Kunya-Ark Citadel.
Includes: breakfast, lunch, dinner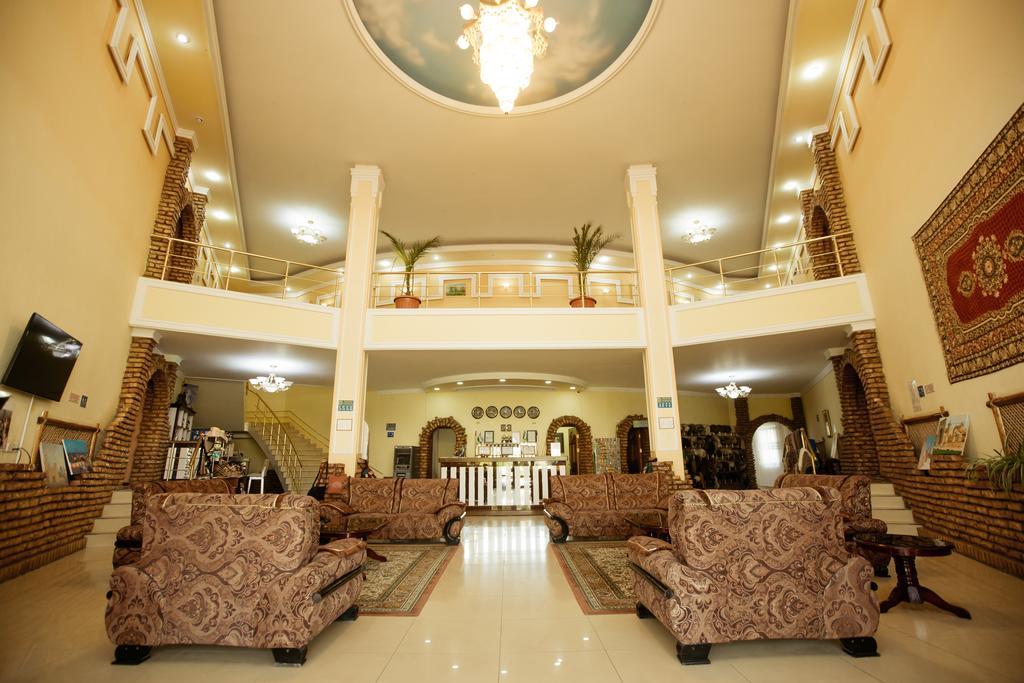 Example accommodation
Hotel Asia Khiva
A modern hotel located just moments from the historic sights of the city, with air conditioning, an on-site restaurant and swimming pool.
Day 3
Khorezm tour - Bukhara
Enjoy some free-time in the morning to explore the city or relax in your hotel before departing towards Toprak & Ayaz Kala: the clay ruins of ancient Khorezm. Located in the desert, this ancient fortress dates back to the 2nd-century BC, and was part of a border of fortresses that stretched from east to west. In the evening you'll have dinner before taking a short flight to Bukhara, arriving at around 10pm.
Includes: breakfast, lunch, dinner
Example accommodation
Komil Boutique Hotel
Located in Bukhara's Old Town, this hotel features a 19th-century dining room, oriental-style decor and elegant wooden furniture. Soak up the culture in the heart of the city.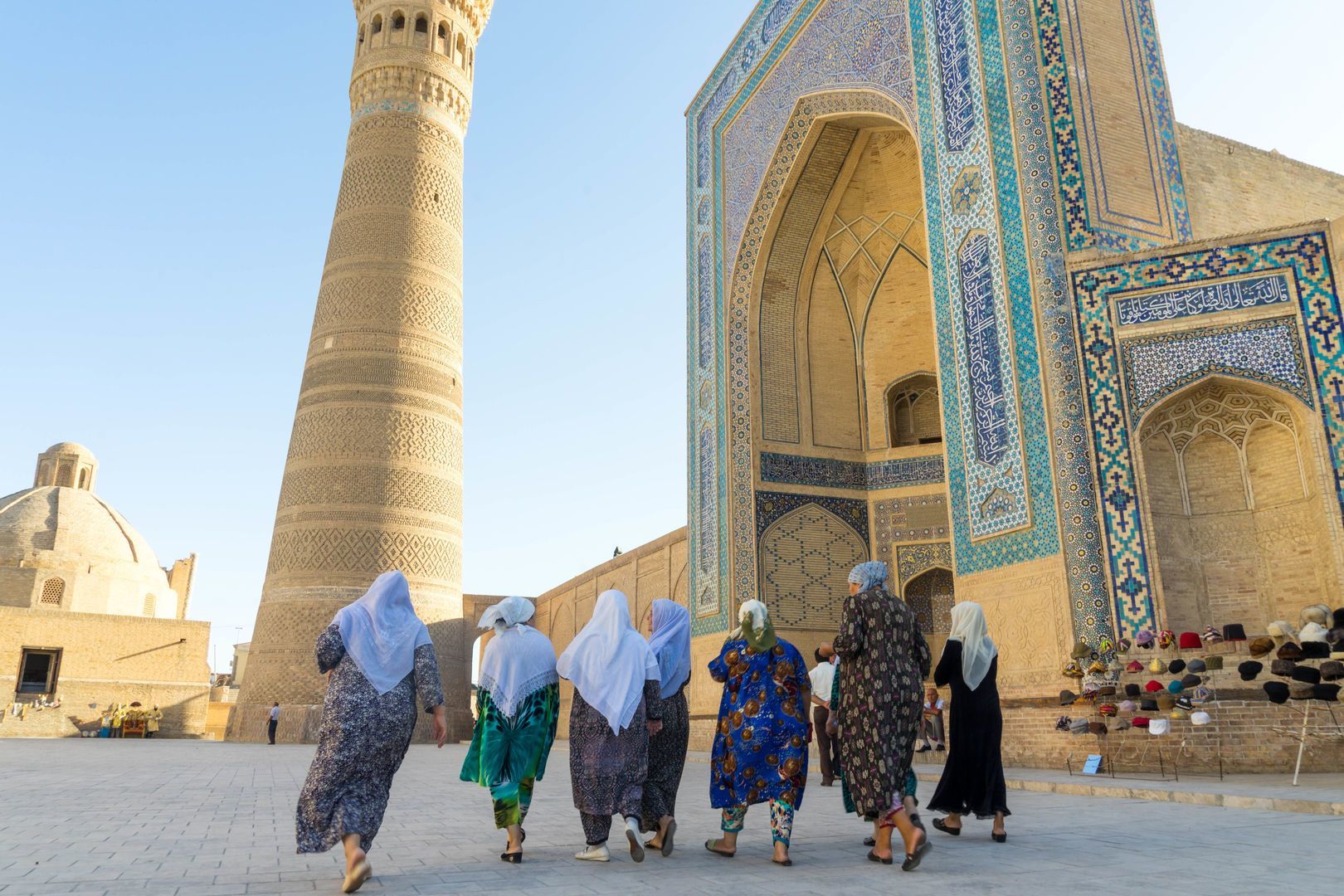 Day 4
Bukhara city tour
As a key stop-off for traders on the Silk Road, Bukhara is steeped in history. The Old Town has been well-preserved and offers an exciting look at ancient minarets, mosques and madrassas. Look out for Lyabi-Hauz, the only one of Bukhara's notorious canals and pools to remain un-drained; offering a serene oasis shaded by mulberry trees. Soak up the sights on a guided walking tour before visiting a local Synagogue and puppet workshop in the evening.
Includes: breakfast, lunch, dinner
Day 5
Bukhara - Samarkand
After breakfast you'll depart from Bukhara and journey to the Mausoleum of Naqshbandi, around 15km outside of the city. Next, you'll visit the summer residence of the last Emir of Bukhara (Sitorai Mokhi Hossa), which means 'the place where the moon meets the stars' in Persian. Before lunch you'll see Chor Minor madrasa, and in the afternoon you'll board a high-speed train to Samarkand.
Includes: breakfast, lunch, dinner
Example accommodation
Hotel L'Argamak
Conveniently located in the heart of town, you'll be perfectly situated for sightseeing. With garden views and beautiful terrace, this hotel offers incredible views over Samarkand.
Day 6
Samarkand city tour
Wake up for your first full day in Samarkand – a mythical city full of romance and intrigue. Once the domain of Timur – one of history's greatest conquerors – much of the traditional architecture and heritage has been beautifully preserved. Embark on a city tour to see Siyob Bazaar, Bibi Khanum Mosque and Registan Square. After lunch you'll visit the burial place of Timur himself, Gur-Emir mausoleum, before enjoying some free time before dinner.
Includes: breakfast, lunch, dinner
Day 7
Day two in Samarkand
Samarkand is not only famous for its monuments, but also for its paper. Samarkand paper was produced by hand from the bark of mulberry (silk) trees, and is still in production today in the village of Koni Ghil. After a visit to the famous paper workshop you'll head to Ulugbek observatory – one of the largest research centres in Central Asia. Shah-i-Zinda and the Afrasiab Museum are next on the itinerary before a farewell Uzbekistan dinner in the city.
Includes: breakfast, lunch, dinner
Day 8
Samarkand - Penjikent
Leaving Uzbekistan behind, you'll travel to Tajikistan to meet your new guide and driver. En route to Penjikent you'll stop at the UNESCO site of Sarazm before checking into your hotel at lunchtime. Penjikent translates as 'the city of five villages', and is located on the verdant Zeravshan river valley. It used to be a thriving hub on the Great Silk Road and is full of historical sights, mosques, museums and more.
Includes: breakfast, lunch, dinner
Example accommodation
Hotel Sughd
A small and friendly family-run hotel with free Wifi. Located in the centre of town, it's just a stone's throw from the city's main park.
Day 9
Penjikent - Iskander Kul - Dushanbe
You'll embark upon a long but scenic drive through the Zarafshan mountains to Dushanbe, the capital of Tajikistan. En route you will stop to discover the Iskander Kul mountain lake, which is named after Alexander the Great and is considered to be one of the most beautiful lakes in the former Soviet United Nations. Enjoy lunch by the lake before exploring a nearby waterfall, the Anzob tunnel and the Varzob gorge. You'll arrive in Dushanbe in time for dinner.
Includes: breakfast, lunch, dinner
Example accommodation
Hotel Hyatt Dushanbe
Kick-back in 5* opulence, with floor-to-ceiling windows offering expansive views of the lake, mountains or presidential palace. With a health-club, pool and fitness centre, it's a little taste of luxury in Central Asia.
Day 10
Dushanbe city tour
After a good nights sleep you'll wake up to beautiful views of Dushanbe. Your guide will take you on a city tour to see the famous Buddha statue at the National Archaeological Museum, the wonders of Navruz Palace, the statue of Ismail Samani and Rudaki Park. A day packed full of rich history and culture.
Includes: breakfast, lunch, dinner
Day 11
Dushanbe - Almaty
Enjoy some free time in the morning before heading to Dushanbe International Airport. You'll take an afternoon flight to Almaty, where you'll meet your Kazakh guide and head into the city centre for dinner.
Includes: breakfast, lunch, dinner
Example accommodation
Rixos Hotel
A luxury hotel in the centre of Almanty, within walking distance of Nikolai Cathedral. Impressive views, individual balconies and access to the on-site Spa and Wellness Centre.
Day 12
Almaty city tour
As the largest city in Kazakhstan, Almanty is the country's business and education centre. The name of the city itself means 'the place with apples', as it is believed to be the birthplace of the fruit. Your tour will begin at the State History Museum before moving onto Panfilov Park to see the Zenkov Cathedral. Built in 1904 without a single metal nail, this impressive building is one of the world's tallest wooden structures. Explore the Museum of Musical Instruments to learn more about the music of the region before heading to the Green Bazaar for fresh fruit and vegetables.
Includes: breakfast, lunch, dinner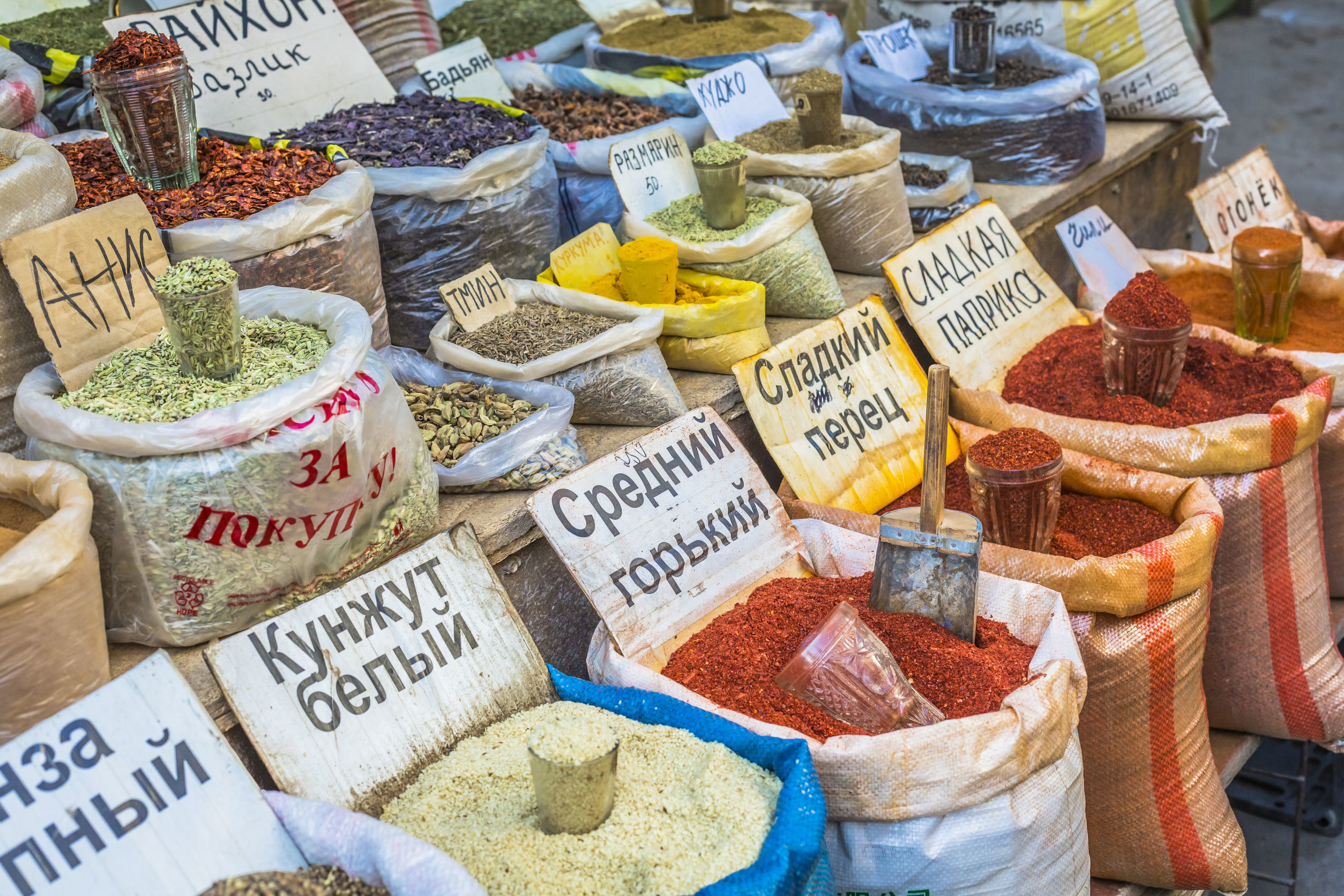 Day 13
Almaty - Bishkek
Head to the mountains of Shymbulak, a popular skiing area at 3,200m altitude. Make sure you bring a warm jacket for this activity as the mountains are often covered in snow. You'll stop by Medeo ice skating rink and head back to the city in time for lunch. Your flight to Bishkek will be in the late afternoon, arriving in time for a welcome dinner with your Kyrgyz guide.
Includes: breakfast, lunch, dinner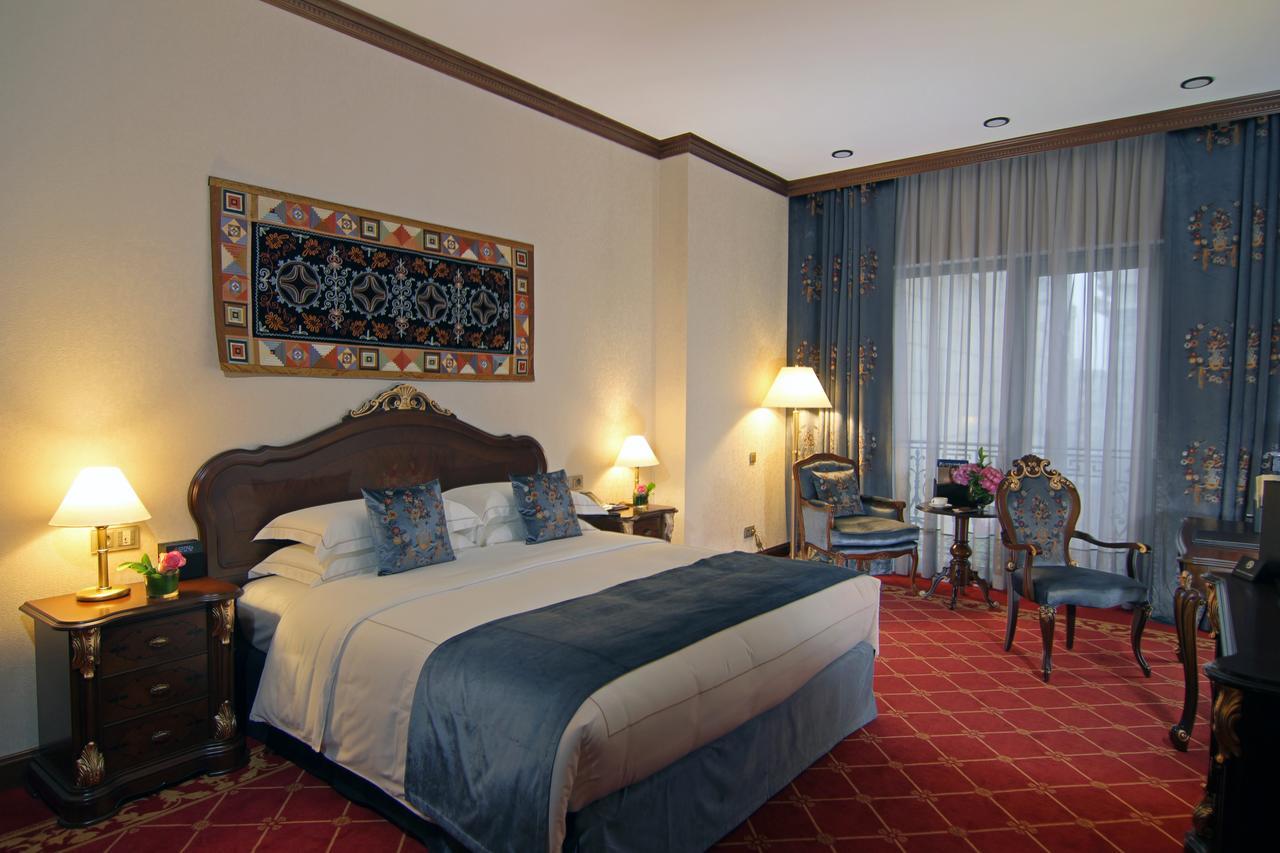 Example accommodation
Orion Hotel
Located in the business district, this luxury hotel offers a Spa and Fitness Centre, flat-screen TV and opulent decor.
Day 14
Bishkek city tour & Burana Tower
Burana Tower is the first sightseeing landmark of the day, situated 85km east of Bishkek. Built in the 11th-century, this monument features a winding staircase offering panoramic views of the Chun Valley. From here you'll head back to Bishkek for lunch to enjoy the tree-lined boulevards before stopping at Oak Park, the Central Square of Ala Too and the Philharmonic Hall.
Includes: breakfast, lunch, dinner
Day 15
Departure
After one final breakfast and a chance to say goodbye to your travelling companions you'll transfer back to the airport for your flight home.
Includes: breakfast
What people are saying
K
Kelly Lewis, USA
07/01/2018
Spent a week with Kalpak Travel in Uzbekistan and it was incredible! The team behind Kalpak travel are experts in Central Asia and they really went above and beyond to make sure we were getting the history that also went behind some of the country's most amazing sights. Highly recommend booking a trip with them if you're planning on visiting Central Asia!

M
Mariateresa and Francesco, Italy
05/01/2018
Absolutely great! We are a couple of travellers, not young anymore, what we always found is efficiency, high knowledge of the territory and great response to our needs. Even on road there were little changes which, of course, improved the quality of our services. What else can we say: try and you'll be sincerely impressed and satisfied. Last, but not the least, fantastic balance between cost and service.

N
Noo Saro-Wiwa, United Kingdom
05/04/2018
I recently finished an glorious 8-day tour of Uzbekistan with Kalpak Travel. Hardly anyone speaks English out there, so a private guided tour was the best way to see the country. A small group of us travelled around in a minivan. Our guide, Aijan, knows the country inside out, speaks fluent English, German, Uzbek and Kyrgyz, among others. She had the lowdown on all the best restaurants and the region's history. It wasn't your typical guided tour, it was more like travelling with a friend. Thank you Kalpak, for an unforgettable trip.

Upcoming departures
This trip is available as a private tour
Private tours with custom itineraries and flexible departure dates are available. Please contact Kalpak Travel for more information.
Enquire now
Good to know
Operated by Kalpak Travel, the leading Central Asia specialists
Small group tour: max 12 people
Guaranteed departures
Expert local guides
24/7 support
Historical cities of the Silk Road
What's included & what's not included
| | | |
| --- | --- | --- |
| | Accommodation | 14 nights in carefully-selected, quality assured hotels |
| | Guide | Expert, English-speaking guides and fully escorted tours in every destination. |
| | Meals | Full board (14 breakfasts, 13 lunches, 13 dinners). |
| | Accommodation | All road transport, rail tickets, internal/domestic flights, and airport/hotel transfers. |
| | Flights | All internal flights included. |
Free, expert travel advice
No commitment to book
Price guarantee
This tour is operated by
Kalpak Travel
Enquire now
Contact Kalpak Travel about this trip
Send your details to the travel advisors at Kalpak Travel for more information about this trip.
Why Horizon?
Free, expert travel advice
No commitment to book
Best price guaranteed
You're secure
Your details are stored securely according to our privacy policy and will never be sold or used for any other purpose.