The Classic Tanzania Safari
Unbeatable value safari experience
This trip combines fantastic safari experiences with good quality accommodation and a private driver guide, all without breaking the bank. You'll get Big Five game viewing in the Serengeti and Tarangire and visit Lake Manyara and the Ngorongoro Crater. Accommodation includes comfortable lodges, Maasai-run camps with wonderful views and a mobile camp in the Serengeti.
This is a suggested itinerary which can be tailored to your preferences. Contact a Tanzania Specialists travel advisor now to discuss your options.
Six full days of game viewing
Quality tented camps & lodges
All inclusive price
Fully customisable itinerary
ATOL financial protection
This tour is operated by
Enquire now
Itinerary
What you'll do and see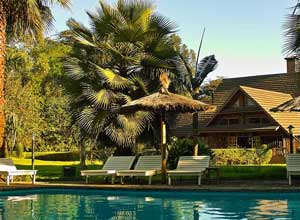 Day 1
Arrive in Kilimanjaro
Your driver guide meets you on arrival at Kilimanjaro Airport and takes you to Arumeru River Lodge in Arusha (40 mins). Here you can chill out, enjoy the tropical gardens or take a dip in the pool.
Includes: dinner
Arumeru River Lodge
Arumeru is a great place to stay on arrival into northern Tanzania before heading off on your safari adventure. It's in the grounds of an old coffee plantation, conveniently located between Kilimanjaro Airport and Arusha.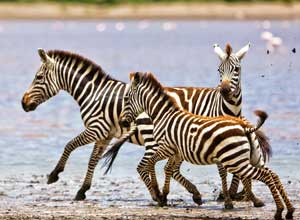 Day 2-3
Tarangire National Park
You're on safari! Your driver guide collects you after breakfast for the 120km journey to Tarangire. You'll picnic in Tarangire and experience your first game drive before arriving at Maweninga camp, settling into your stilted tent and taking in those incredible Rift Valley views.
The following day you'll take morning and afternoon game drives with plenty of opportunities to spot the Big Five and start capturing some memorable photos. Picnic in the park or head back to camp for lunch. In the evening, sit out by the fire and watch the sun set over the Rift Valley.
Includes: breakfast, lunch, dinner
Maweninga Camp
Maweninga is a great choice if you want a reasonably-priced camp within Tarangire National Park's main game viewing area, yet in an elevated and secluded spot. Sit by the campfire and relish the stunning views.
Day 4
Lake Manyara National Park
Bid farewell to your Maasai hosts at Maweninga and drive to Lake Manyara National Park (about 1.5 hours). Enjoy lunch by the lake's intensely blue waters as you gaze out at the flamingos, pelicans and ibis. Then a game drive through the park brings you to Bashay Rift Lodge, where you could have a dip in the pool.
Includes: breakfast, lunch, dinner
Bashay Rift Lodge
Sitting majestically atop a hill, Bashay Rift Lodge has fantastic views over surrounding farmland and the Ngorongoro Hills. It offers peace and tranquillity in a rural setting carved out of the wilderness just 40 minutes from the Ngorongoro Crater.
Day 5
Ngorongoro Crater
After appreciating the beautiful farmland views over breakfast, it's time to travel the to the vast Ngorongoro Crater, under an hour away. You have up to six hours in this wildlife haven where you can see all manner of species, such as wildebeest, zebra, impala, elephants, lions, and even including rhinos if you're lucky. Tonight you'll stay in the charming Olduvai Camp, with its star gazing deck and views of the endless Serengeti plains.
Includes: breakfast, lunch, dinner
Olduvai Tented Camp
Guests and Maasai meet on equal terms at this comfortable, modestly-priced, understated camp, which is perfect for the Great Migration and close to several important paleontological sites. You can learn about Maasai history and culture and walk with Maasai guides. It's also fantastic for children, who are warmly welcomed.
Day 6-7
The Serengeti
Olduvai Camp is just an hour's drive from the Serengeti gate, so you won't have long to wait for your first experience of the wealth of game here. After a picnic lunch and more game viewing it's on to Ronjo, your mobile camp. There is also the option of visiting Olduvai Gorge, Museum and the Shifting Sands.
The next morning you'll start a full day of safari in the Serengeti. Whichever time of year you visit you will see good numbers of diverse wildlife in the Serengeti, and the reserve is a beautiful wilderness of vast grasslands dotted with granite boulders.
Includes: breakfast, lunch, dinner
Ronjo Camp
This simple camp offers an authentic taste of the bush. The price is kept reasonable in comparison to most other Serengeti tented camps by being slightly larger, however it's not available to all operators and you get your own vehicle, so there is exclusivity here too.
Day 8
Departure from Arusha
Your holiday ends with an aerial safari as you fly out of Seronera airstrip to Arusha (flight time about an hour). You'll be met on arrival and taken for lunch before being driven to Kilimanjaro Airport. If you're extending your holiday with a trip to Zanzibar you'll be taken to the airport before lunch, in time for the flight to the island.
For more details on how this itinerary can be customised contact the travel experts at Tanzania Specialists now.
Includes: breakfast, lunch
What people are saying
J
Jean and John
01/10/2016
Looking through our safari photo's today I had problems expressing myself as the excitement and wonder we experienced while on safari came flooding back.
D
Dr S Bateman
29/10/2016
We had an excellent time Everything went very smoothly.
S
Steve & Sarah Twaddle
25/08/2016
This was a great holiday - one of our best ever.
The Classic Tanzania Safari
What's included & what's not included
| | | |
| --- | --- | --- |
| | Accommodation | Seven nights in carefully selected lodges and tented safari camps, specially chosen for comfort, quality, and to maximise your chances of seeing the wildlife. |
| | Guide | All 4X4 game drives with expert guide and driver. National Park entry fees are included in the price. |
| | Meals | All meals at the safari camps. |
| | Transport | All ground transfers. |
| | Flights | Internal domestic flights are included in the price. |
Six full days of game viewing
Quality tented camps & lodges
All inclusive price
Fully customisable itinerary
ATOL financial protection
This tour is operated by