Highlights of the "Five Stans"
Explore the heart of the Silk Road
Destinations
Kazakhstan, Kyrgyzstan, Tajikistan, Turkmenistan, Uzbekistan
Activity
Nature & Wildlife, Culture & History, Cities
Tour Type
Group tour
Accommodation
Standard
Physical Level
Easy
Season
January - December
Good to know
Operated by Kalpak Travel, the leading Central Asia specialists
Small group tour: max 12 people
Guaranteed departures
Expert local guides
24/7 support
This escorted tour combines the cultural highlights and natural beauty of five countries into one epic journey. Uncover the cultural treasures and traditions of the nomadic people who have crossed this region for centuries. Explore epoch-defining architecture, from medieval Samarkand to Soviet-era cities. Get an unparalleled insight into the "Five Stans" and what makes this enigmatic and little-visited region tick.

Itinerary
What you'll see and do
Day 1
Astana city tour
Your flight will arrive early in the morning and you'll meet your guide and driver at arrivals for the transfer to your hotel. Check in, take a shower and have breakfast before regrouping with your guide and fellow travellers for a tour of Astana, Central Asia's youngest capital and showpiece for modern Kazakhstan.
The tour starts with a trip 40km out of town to the Alzhir Memorial Museum, once the USSR's largest gulag (concentration camp), for an insight into the dark days of Soviet-era Kazakhstan. Back in the city you'll stop for lunch before scaling the landmark Baiterek Tower, a tour of Hazrat Sultan Mosque, the National History Museum of Kazakhstan and finally a walk down Nurzhol Boulevard to see some of Astana's iconic modernist architecture.

Includes: breakfast, lunch, dinner
Example accommodation
Hilton Garden Inn (or similar)
A contemporary, centrally-located hotel with modern, comfortable rooms and easy access to downtown Astana and nearby attractions. Cooked-to-order breakfast included.
Day 2
Astana - Bishkek
After breakfast it's back to the airport for a short flight to Bishkek, capital of Kyrgyzstan. Check in to your hotel before heading out for a guided tour of this charming city, the greenest in all Central Asia. After lunch you'll call in at the newly renovated National History Museum, Oak Park, the Central Square Ala Too and the Philharmonic Hall.

Includes: breakfast, lunch, dinner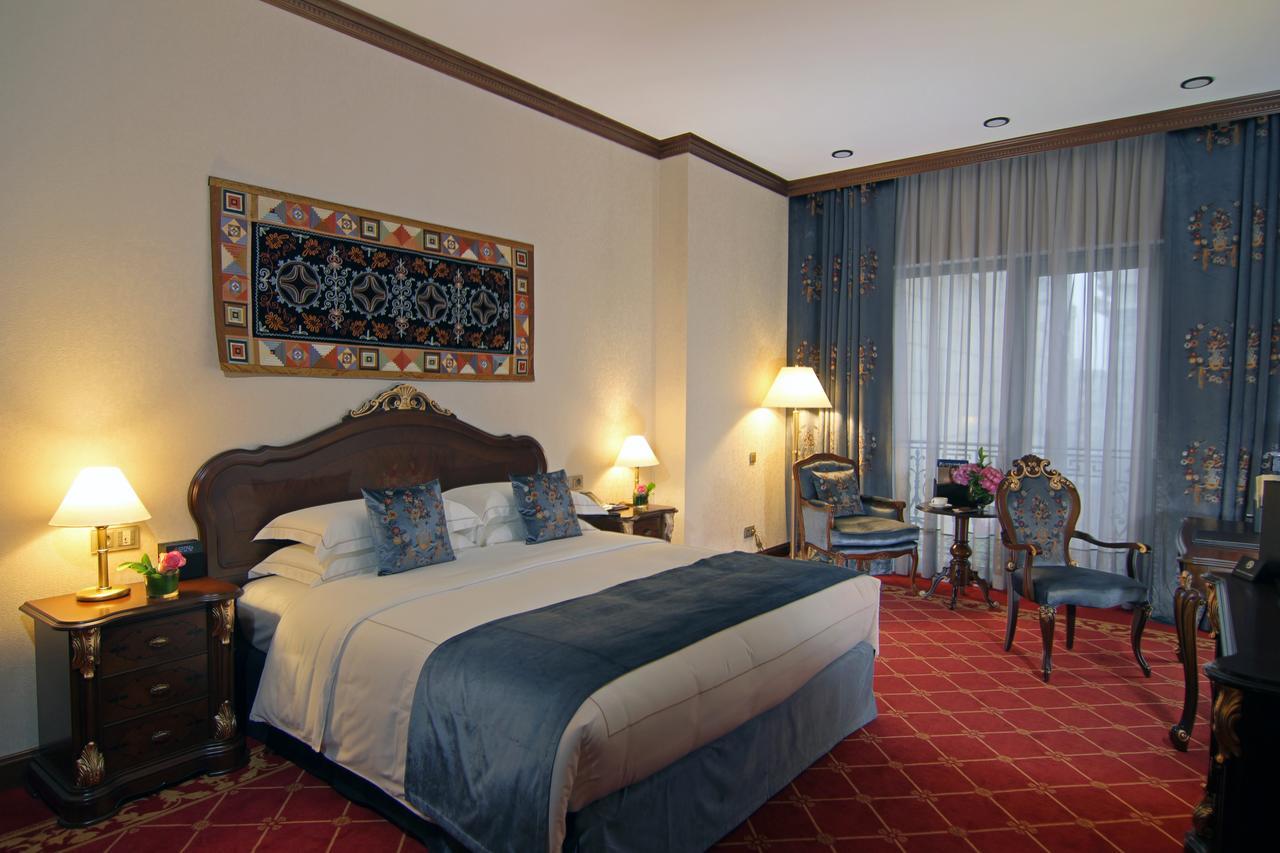 Example accommodation
Hotel Orion (or similar)
A modern, 5* hotel ideally located in downtown Bishkek, the Orion offers luxurious rooms and a full spa & fitness centre.
Day 3
Bishkek - Burana - Song Kul or Chon Kemin
You'll depart after breakfast for a road trip into the heart of Kyrgyzstan. First stop is the medieval town of Balasagun and its 11th century Burana Tower. Climb the minaret's winding staircase for impressive views of the Chuy Valley.
In June, July, August & September: Song-Kul
You'll continue to the village of Kochkor, where you'll stop for lunch. From Kochkor it's another 4-5 hours mostly on dirt road to lake Song Kul, following the southern shore to your yurt camp. The lake is situated at 3,000m above sea level and is only accessible in summer. You'll spend the night as the nomads do, in a traditional Kyrgyz yurt under an impossibly starry night sky.
In May & October: Chon Kemin
From Burana you'll continue further into the mountains to a guesthouse in the beautiful Chon-Kemin Valley. Upon arrival, you'll have lunch at the guesthouse and in the afternoon you'll explore the village, observe local life, or optionally enjoy a short horse riding tour into the surrounding hills. Dinner and overnight in the guesthouse.

Includes: breakfast, lunch, dinner
Example accommodation
Overnight in yurt
A traditional yurt camp, one yurt for two people with shared bathroom facilities (western toilet, shower with hot water).
Day 4
Song Kul - Kochkor - Issyk Kul
After breakfast you'll heat to lake Issyk Kul, "the pearl of Kyrgyzstan". Arriving at the lake you'll drive along the southern shore to the skazka or fairy-tale canyon, so named for its bizarre landscape of fabulous rock formations. From here it's a few more minutes to your overnight stay – a yurt camp just 200 metres from the beach of lake Issyk Kul. In the summer months the weather is warm enough for a pleasant swim.
Issyk Kul is the second-largest mountain lake in the world. Located at an altitude of 1600 metres, it is a slightly saline lake with no outlet, surrounded completely by the Tien Shan Mountains. Some evidence suggests that ruins of an old trade centre from 2nd century BC can be found under the water.

Includes: breakfast, lunch, dinner
Day 5
Tosor – Jety Oguz - Karakol
After breakfast, you'll head further eastwards along the southern shore of Issyk Kul towards the town of Karakol. On the way to Karakol, you'll detour into the valley of Jety Oguz, famous for its two red rock formations called "Seven Bulls" and "The Broken Heart".
In Karakol, you'll stop for lunch and a short tour of the town's most interesting sights, including the Dungan Mosque, built in 1904, and the wooden Russian Orthodox Church which has been standing since 1869. From Karakol, it's another 30km north to the village of Tepke where you'll spend the night in a guesthouse with a farming family who breeds Kyrgyz horses. You can see their horses and learn how traditional boorsok (deep fried bread) is made.

Includes: breakfast, lunch, dinner
Example accommodation
Guesthouse "Reina Kench"
Arrive as guests, leave as friends. This family-owned guesthouse is a working farm set in an idyllic setting. A rustic ambience, cosy rooms (each with private facilities), and delicious home-cooked food. Travel doesn't get much more real than this.
Day 6
Karakol– Charyn Canyon - Almaty
Cross the mountains into Kazakhstan and drive to Almaty, former capital and biggest city of Kazakhstan. En route you'll stop for lunch at Charyn Canyon, often described as Kazakhstan's answer to the Grand Canyon (although in reality much smaller in size). You'll visit the "Valley of Castles" so named for its unusual rock formations, and enjoy a 3km hike through the canyon. In the evening, you'll arrive in Almaty in time for dinner.

Includes: breakfast, lunch, dinner
Example accommodation
Hotel Kazzhol (or similar)
A modern 4* hotel situated in downtown Almaty. Large, comfortable rooms, spa & pool, and excellent breakfasts.
Day 7
Almaty city tour
Almaty is Kazakhstan's largest city. Until 1997 it was the country's capital and it remains the business and educational centre. Roads are wide and tree-lined and there are good views of the Zailisky Ala-Too mountains. The name Almaty means "the place with apples" and it is believed that this is where apples originated from.
Your guided tour calls at Panfilov Park to see Zenkov Cathedral, built in 1904 without a single metal nail and one of the world's tallest wooden buildings. Nearby is the impressive Soviet Glory Memorial, a tribute to 28 men who, as the narrative goes, repulsed 50 German tanks from the outskirts of Moscow during World War II. Adjacent to the park is the Museum of Musical Instruments, showing traditional instruments from the region. At the Green Bazaar, you'll get a chance to explore Kazakh culture as you shop for fresh fruits and vegetables. After lunch you'll drive half an hour up to Medeo ice skating rink and take a cable car to enjoy views of Shymbulak skiing area.

Includes: breakfast, lunch, dinner
Day 8
Almaty - Dushanbe city tour
After breakfast transfer to Almaty Airport for the flight to Dushanbe, capital of Tajikistan.
Meet your Tajik guide, transfer to the hotel for check in and enjoy lunch in the city. That afternoon you'll walk in the shade of the trees in the Botanical Garden and visit Ismail Samani statue, a large monument that commemorates the 1100th anniversary of the Samanid State, the heyday of the Tajik nation when science and arts flourished.

Includes: breakfast, lunch, dinner
Example accommodation
Hotel Sheraton
A modern, 5* hotel conveniently located in the city centre. Spacious, contemporary rooms and first-rate service.
Day 9
Dushanbe - Iskanderkul - Penjikent
After an early breakfast you'll set off for Iskanderkul Lake, named after Alexander the Great. Triangular in shape and nestled among the Fann Mountains at 2,200 m above sea level, it's one of the most impressive lakes in the former Soviet Union. You'll stop for lunch at the lake shore and take a dip if you wish, followed by a brief hike to a nearby waterfall, called the Niagara Falls of the Fann Mountains. From there it's another four hours of scenic driving to the town of Penjikent, where you'll arrive just in time for dinner.

Includes: breakfast, lunch, dinner
Example accommodation
Hotel Umariyon
A simple but modern and comfortable hotel, conveniently located in Penjikent.
Day 10
Penjikent city tour or Seven Lakes day trip
Today you have the option of spending a relaxed day in Penjikent, touring the Rudaki Museum of History, the historically important sights of Old Penjikent, the UNESCO World Heritage Site of Sarazm, and a visit to the local market.
Alternatively you can take a more adventurous trip into the mountains to explore the Seven Lakes area. This option includes a scenic hike between lakes and through traditional Tajik villages.

Includes: breakfast, lunch, dinner
Day 11
Penjikent - Istarafshan - Khujand
From Penjikent you'll follow a scenic route north to Istarafshan, and finally to Khujand. Istarafshan was founded by Cyrus the Great in the 6th century BC and recently celebrated its 2500th anniversary. Today, Istarafshan is well known in Tajikistan for its blacksmiths, hand-crafting knives of high quality. You'll visit workshops near the market and meet a famous wood carving master, who will tell you more about his work and passion.
From Istarafshan it's another two hours driving to Khujand where you'll check into your hotel and enjoy dinner in Tajikistan's second largest city.
Includes: breakfast, lunch, dinner
Example accommodation
Grand Hotel
A modern and comfortable, 3* hotel located in downtown Khujand.
Day 12
Khujand city tour
Khujand is situated not far from the Fergana Valley on the Syr Darya river. It is another ancient city with history dating back to Cyrus the Great of Persia and Alexander the Great. Today the city is home to Tajikistan's biggest market – Panjshanbe Bazaar. Your guided tour of includes the bazaar and the adjacent Maslihaddin Mosque, the historical Museum of Khujand, and Arbob palace. In the evening you'll walk around Kmaoli Khujand park and see the Lenin statue.

Includes: breakfast, lunch, dinner
Day 13
Khujand - Tashkent
After breakfast you'll cross the border into Uzbekistan to meet your Uzbek guide and driver. Road transfer to Tashkent in time for a tour of Central Asia's largest city. Tashkent is one of the oldest cities in Uzbekistan, but most of its historic buildings were destroyed in a major earthquake in 1966.
You'll visit the Old City area to explore its ancient historical sites: the Khast Imom Complex, which contains ancient Quran book of Caliph Uthman (from 7th century) and the mausoleum of the Islamic saint, Abu Bakr Kaffal Shashi. Join the animated throng of traders at Chor-Su Bazaar before taking a ride on the former-Soviet Tashkent Metro and visiting the Amir Temur & Independence Square and Applied Arts Museum.

Includes: breakfast, lunch, dinner
Example accommodation
Wyndham Tashkent
A modern, 4* hotel with comfortable rooms, excellent service and convenient location.
Day 14
Tashkent - Samarkand
After breakfast you'll transfer to the railway station for the high-speed Afrosiyob service to the historical city of Samarkand (a distance of 300 km in just two hours!) Samarkand evokes an almost mythical past of romance and intrigue. This was the domain of Timur, one of history's great conquerors. Much of his architectural heritage has been preserved, offering a view of the city at the peak of his power. Your tour begins in spectacular Registan Square, the focal point of ancient Samarkand and framed by three beautiful madrassas. From here you'll explore more of the city's unmissable sights, the Bibi Khanum Mosque & Gur Emir Mausoleum, before delving into the Siyob Bazaar to haggle for dried fruit and souvenirs to take home.

Includes: breakfast, lunch, dinner
Example accommodation
Hotel L'Argamak
A distinctive hotel, sensitively designed to blend with the surrounding architecture and offering stunning views of historical Samarkand.
Day 15
Samarkand - Bukhara
A second day of exploring historical Samarkand, visiting Ulugbek's observatory, once the biggest research centre of Central Asia. Ulugbek was decades ahead of the West with his observations of the solar system and the earth. Your next stop is Shah-i-Zinda, necropolis where family members of Timur are buried. In the afternoon you'll visit Afrasiyab Museum to learn about the ancient city of Samarkand – then known as Afrasiyab – that was destroyed by the Mongols in the early 13th century. After some free time you'll enjoy dinner before catching the high speed train to Bukhara.
Includes: breakfast, lunch, dinner
Example accommodation
Hotel Asia
Another distinctive hotel offering a friendly welcome and comfortable rooms.
Day 16
Bukhara walking tour
The second of your UNESCO World Heritage stops, the very name Bukhara conjures up images of the exotic Orient. Today it remains an important trading post and you'll have numerous opportunities to see traditional Uzbek products being bought and sold. The Old Town has been well preserved and is crammed full of minarets, mosques, and madrassas. Its once notorious canals and pools, the source of many an epidemic, have now been drained but the most famous, Lyabi-Hauz, is still there, an oasis shaded by mulberry trees at the heart of the city.

Includes: breakfast, lunch, dinner
Day 17
Bukhara - Khiva
After breakfast check out from hotel for the road journey to Khiva, a long but scenic ride through the Kyzylkum desert, with plenty of stops for lunch and to stretch your legs. After a long road trip, the reward will be Khiva, where you'll arrive in time for dinner in the Old Town.
Includes: breakfast, lunch, dinner
Day 18
Khiva walking tour
Enjoy a guided walking tour of the historical city. Your tour starts at the walled inner-city section of Khiva called Ichan Kala, an old section of town with over fifty historic monuments and hundreds of old houses dating back hundreds of years. The entire citadel is protected as a UNESCO World Heritage Site. As you walk through the enormous city gates, you are confronted by the glistening Islamic beacon, the Kalta-minor Minaret. Your tour continues with an ascent of the Islam Khodja Minaret, the highest minaret in Khiva, finishing with broad views of Old Khiva from the Kunya-Ark Citadel. During dinner there will be a small performance of local dancers and singers.
Includes: breakfast, lunch, dinner
Day 19
Khiva - Kunya Urgench - Darvaza crater
After breakfast you'll drive to the Turkmenistan border to deal with border formalities (all necessary information and support provided by Kalpak Travel and your guide).

Once in Turkmenistan you'll meet your Turkmen guide and driver and transfer to Kunya Urgench to visit mausoleums of Turebek Khanym, Sultan Tekesh, Sultan Il Arslan, Najmad-din-Kubra, Sultan Ali. In the afternoon you'll drive to the Darwaza gas crater located in the middle of Karakym desert.
Here your guides will set up camp and prepare a delicious fire-cooked meal for an exciting night of camping wild in the desert.
Includes: breakfast, lunch, dinner
Day 20
Darvaza - Ashgabat
After camp-style breakfast you'll continue to Ashgabat, arriving around noon with some free time to relax, eat lunch, take a shower and avoid the midday heat.
After lunch you'll take a short tour of Ashgabat, capital of Turkmenistan. Your tour includes a visit of the National Museum of History, the Arch of Neutrality, and the newly built Independence Park. Finish the tour at a 7th floor terrace restaurant for dinner with nice views of the city.

Includes: breakfast, lunch, dinner
Example accommodation
Hotel Yldyz
One of Ashgabat's best 5* hotels with fine rooms, excellent food and service, and great views of the city.
Day 21
Ashgabat - Goekdepe - Ashgabat
It's a busy penultimate day with a drive to Old Nisa fortress, yet another UNESCO World Heritage site. Located in at the foot of the Kopet-Dag Mountains, Old Nisa is 14 hectares in size with two semi-excavated complexes of Parthian-era structures, designated as royal residence and temple complex. From Nisa fortress you'll continue to the Spiritual Mosque, one of the biggest mosques in Central Asia. Then drive back to Ashgabat, stopping en-route at National Memorial Complex "Halk Hakydasy" with WWII and Earthquake memorials.
After lunch you'll drive to a farm in Geokdepe, about 50 km west of Ashgabat, where you can see the famous Turkmen horses called Akhal Teke. That evening you'll enjoy a farewell dinner with your guide and travelling companions, certain by now to have become firm friends.

Includes: breakfast, lunch, dinner
Day 22
Departure
After one final breakfast it's time for your transfer to the airport for your flight back home. Say goodbye to your companions and Central Asia - perhaps you'll return again soon!
This escorted/group tour is also available as a private trip with flexible departures and a customisable itinerary. Contact Kalpak Travel for more information.
Includes: breakfast
Accommodation
This tour includes a variety of accommodations, ranging from international-standard 5* hotels, to simple guesthouses, to camping in the desert and in traditional Yurts! Contact Kalpak Travel for more information on the hotels and accommodations.
What people are saying
S
Sten-Enok, Norway
01/11/2018

I got a tip to visit the webpage for Kalpak and have not regretted since. They arrange trips to Central Asia and do it really well. They are professional, respond to inquiries instantly, are very flexible and know the region well. I was in contact with Luca for a combination of mountain biking and trekking in the Fann mountains in Tajikistan. My experience is solely positive; truly professional and passionate about the region.
Mind you, Kalpak uses local resources and is responsible tourism. I really recommend Kalpak Travel! They make astonishing trips to Central Asia and are professional, serious and responsible.


S
Spencer, Australia
01/06/2018
We had a fabulous 13-day tour of Central Asia - Kazakhstan, Tajikistan, Kyrgyzstan, Uzbekistan and Turkmenistan - in May/June. Luca, the owner of Kalpak Travel, has been very reliable and committed to giving excellent service. He was constantly keeping in touch during our trip to ensure that everything was running smoothly.
The guides in each city spoke excellent English and were extremely informative on all aspects of Central Asia. In Almaty, we were invited to have dinner at our tour guide's home. The food was fabulous and we had a wonderful evening….
We were very lucky to have Kalpak Travel as our tour company which exceeded our expectations with flying colours. We highly recommend Kalpak Travel if you are planning a hassle-free tour of Central Asia.


R
Rebecca, USA
01/07/2018
We had a wonderful 3.5 week trip through the 5 Stans. I feel like I've seen the highlights in case I don't get the opportunity to return, but I most certainly DO want to return and see more. These are the warmest and most welcoming people I have every encountered.
My regret is that Kalpak does not arrange trips for other parts of the world, as I truly enjoyed every minute of working with them, and would love to do so again. SUPERLATIVE service.

Upcoming departures
This trip is available as a private tour
Private tours with custom itineraries and flexible departure dates are available. Please contact Kalpak Travel for more information.
Enquire now
Good to know
Operated by Kalpak Travel, the leading Central Asia specialists
Small group tour: max 12 people
Guaranteed departures
Expert local guides
24/7 support
Highlights of the "Five Stans"
What's included & what's not included
Accommodation

18 nights in carefully-selected, quality assured hotels.
Two nights in traditional Yurt camp.
One night in family guesthouse.
One night camping.

Guide

Expert, English-speaking guides and fully escorted tours in every destination.

Meals

Full board (22 breakfasts, 21 lunches, 21 evening meals).


Transport

All road transport, rail tickets and airport/hotel transfers.

Flights

All internal flights included.
Free, expert travel advice
No commitment to book
Price guarantee
This tour is operated by
Kalpak Travel
Enquire now
Contact Kalpak Travel about this trip
Send your details to the travel advisors at Kalpak Travel for more information about this trip.
Why Horizon?
Free, expert travel advice
No commitment to book
Best price guaranteed
You're secure
Your details are stored securely according to our privacy policy and will never be sold or used for any other purpose.