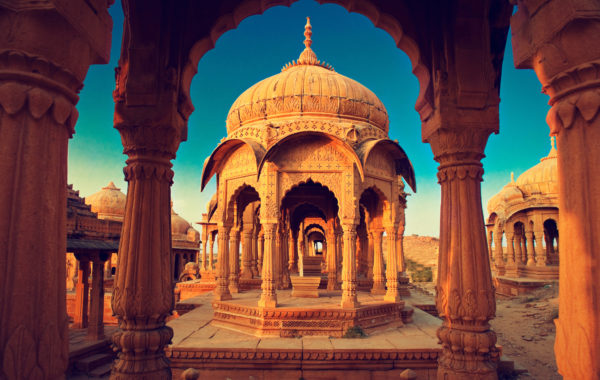 Rajasthan
The Land of Kings
Rajasthan is a riot of colours. From the pink hues of Jaipur to the inky blues of Jodhpur, your first view of kaleidoscopic Rajasthan will be a sensory overload. Known as the Land of Kings because of its Maharaja-filled royal history, the state is crammed with huge medieval forts, shimmering palaces and opulent mansions. It's history heaven.
However, Rajasthan is more than just its past. Tigers roam its national parks, camel herders still live a nomadic life in its deserts (with the occasional smartphone thrown in) and skilled artisans make handicrafts and textiles that inspire designers around the world. So come and immerse yourself in the colour-soaked India of your dreams.
Rajasthan travel guide
Download our travel guide and start planning your trip
Rajasthan
Exploring beyond the Golden Triangle
If you're after a taste of India's royal past complete with forts, festivals and forbidding deserts, then Rajasthan is your trip. The Land of Kings is home to some of India's most beguiling cities, built by princely Rajputs and fortified against battle with forts, castles and palaces.
View this guide
Things to do in Rajasthan
Our recommended experiences and activities
Udaipur
Udaipur
Known as the Venice of the east, Udaipur's charm is built around the waterways and tributaries flowing from its many lakes. From the floating palaces and grand havelis to amazing sunset views from the Aravali Hills, Udaipur is stunningly romantic.
Jaisalmer
Thar Desert
A visit to Rajasthan wouldn't be complete without venturing into the vast blank canvas that is the Thar Desert. 40% of the state's population reside in the desert, so take this opportunity to experience the folklore, crafts and vibrant camel markets of gateway towns like Jaisalmer.
Rajasthan
Arts and crafts
Rajasthan is one of India's richest states when it comes to traditional arts and crafts. From block-printed and tie-dyed fabrics to jewellery and Jaipur's distinctive blue-dyed pottery, Rajasthan is an art enthusiasts dream.
Rajasthan
Pushkar
Pushkar is a sacred town for Hindus. Home to Brahmaji Temple, worshippers come to bathe in the holy waters of Pushkar Lake. A hive of traditional Rajasthani culture, the town also hosts the annual Pushkar Camel Festival, when traders, travellers and entertainers converge on the small town.
Rajasthan
Jaipur
Perhaps Rajasthan's best known city, Jaipur is renowned for its stunning architecture. From the imposing Amber Fort to the Hawa Mahal and Jal Mahal palaces, the city oozes history. Jaipur is also Rajasthan's cultural centre, making it a great place to take in traditional folkloric dance and music.
Rajasthan
Bundi
Want an experience of 'old' Rajasthan? The temple town of Bundi is a gem off the normal tourist trail. Its narrow alleyways are surrounded by Brahmin blue houses, lotus flower blooms and historical forts.

When to visit Rajasthan
Seasons & climate
Rajasthan may be one of the driest states in India, but its geography means its climate is more varied than you might think. The arid Thar Desert bordering Pakistan sees little rainfall and experiences extremes of both high and low temperatures, while southern cities like Udaipur are more temperate. Jagging across the state from southeast to northwest is the Aravalli mountain range, which is the source of several cooling rivers.
Temperatures in Rajasthan soar during the summer period between April and June, when it can become uncomfortably hot. The monsoon season (July-September) breaks the heat but is best avoided by travellers, meaning that the most popular time to visit Rajasthan is the cooler, drier period between November and February.
Month-by-month
The best time of year to visit Rajasthan is between October and March, avoiding both the monsoon and the heat of summer. October and November are festival season, with Diwali, Pushkar Camel Festival and Jodhpur's International Folk Festival all taking advantage of the cooler evenings. Be aware that the mid-winter months of December and January can get quite chilly, particularly in the villages around the Thar Desert, where night temperatures can reach freezing.
Visit in March to experience the colourful Hindu festival of Holi, when temperatures are beginning to heat up. Join revellers in throwing powdered colours and water at each other in this celebration of the start of spring.
The full force of summer begins in April, with temperatures regularly soaring above 35C. Most visitors avoid the heat between April and June, although the drier climate means tiger sightings are more likely in the national parks as they venture out in search of water. Travellers choosing to visit at this time should spend some time in the Aravalli range, joining locals escaping the heat. Head to the hill station of Mount Abu for some respite from the worst of the heat.
Monsoon season is between July and September, when even Ranthambore National Park closes, such is the ferocity of the rain. Head instead to the Aravalli range, where lush greenery takes over, or to the lakes of Udaipur. The rain means most tourist sites are deserted, which makes it a less crowded — if wet — time to visit.
Events and holidays
The cooler months of January and February bring out Rajasthan's artistic crowd, with the annual Jaipur Literary Festival taking place in January. The festival attracts world-famous authors, poets and musicians. For something slightly different, head to the three-day Jaisalmer Desert Festival (normally falling in February), featuring camel races, puppetry and insights into desert life.
March is all about Holi, the festival of colours which welcomes in spring. Gather around a traditional bonfire to celebrate the demise of the demoness Holika on Holi eve, before joining in the 'festival of love' and colour-throwing the next day.
The summer heat of April to June sees the Islamic holy month of Ramadan (dates change each year) and the three-day eid-al-fitr celebration at its end. To escape the sun, climb to the hill station of Mount Abu and its Summer Festival, with traditional music, boat races and carnivals.
The monsoon season sees Rajasthanis retreat indoors, but August 15th brings India's Independence Day, a celebration of succession from the United Kingdom in 1947. The end of the monsoon in October sees two major Hindu festival — Navratri, which celebrates the goddess Durga, and Diwali, a five-day blowout of gift-giving and fireworks.
If you're after a festival with a difference, visit Pushkar's Camel Festival in November, complete with camel races and trading.
Rajasthan recommended routes
Why Horizon Guides?
Expert travel guides
Our guides are written by the leading experts in their destinations. We never take payment for positive coverage so you can count on us for reliable and impartial travel advice.
Authentic experiences
We curate exceptional trips in underrated places, organised by the very best tour operators who live and breathe their destinations and are passionate about authentic, responsible tourism.
No commitment to book
Share your travel plans and our partner tour operators will be happy to offer expert, personalised advice with no commitment or pressure to book.