What tourism means to local communities
Vicos is a traditional Peruvian farming community near Huaraz in the Cordillera Blanca. Travellers come here to participate in a 'homestay', staying in a small lodge next to family homes and experiencing community life, such as cooking, farming and traditional music and dance. Host families explain their cultural beliefs to their guests, as well as taking them on stunning day hikes into the mountains.
Tourism provides an income for Vicos' indigenous people. They may create souvenirs or pose for photographs or they may offer homestay tourism experiences, training as guides and cooks in order to cater for their guests. If anything, indigenous people want to be more involved in the tourism industry in order to gain an income so that their families can be fed, clothed and educated. They aspire to rise up the ranks of the industry in order to have higher salaries, and so that their children can become professionals (teachers, lawyers, engineers).
Financial success brings pride, but individual success is frowned upon in indigenous communities where resources are shared communally — this has been key to their survival over the years.
Some people argue that community-based tourism revives pride in indigenous culture, but members of the communities that I spoke to say that culture is something they've always retained as part of their everyday lives, for example giving offerings to Mother Earth.
In Peru, there has been social and cultural mixing since colonial times (Columbus landed in the Caribbean in 1492), so we're not talking about remote, untouched 'tribes' here. We're talking about people who maintain traditional beliefs while living in the modern world. So they might work for mining companies, as farmers, musicians or tour guides.
They speak Spanish as well as their indigenous language, and they and their children might be studying English and perhaps Japanese (there are a lot of Japanese visitors to Peru). They want to be part of 'modern' society while maintaining their traditions, such as beliefs that the mountains are living gods, creating hand-made textiles or participating in festivals through song and dance.
So while tourists will focus on the visual, instagrammable aspects of culture, such as traditional dress which members wear for them, they will find it harder to access people's beliefs. I'm not sure that tourism makes deep inroads into people's everyday lives — and neither should it.
Local vs mass tourism
Cusco and Machu Picchu are amazing places that shouldn't be missed. More visitors means more local people can get involved in the tourism industry. Alternative treks to the classic Inca Trail and homestay experiences help to spread the economic benefits of tourism to communities away from the main centres.
Socially, there have been incidents of unrest and protests from those excluded from mainstream tourism. A more inclusive approach to spreading the benefits of tourism is needed, and community-based tourism is one of the ways that this can be achieved. So rising tourist numbers can be a good thing, if spread out more.
Peru is encouraging fewer, higher paying tourists to visit, rather than more, lower paying travellers, such as backpackers, but I wonder how many high paying guests would like to do a homestay and how much of their money goes to communities. In reality, communities want as many guests as possible.
Community-based tourism in Peru
Community-based tourism (CBT) is a fantastic opportunity for local groups to develop a sustainable way of benefiting from tourism, and for tourists to engage more deeply with people in the places they visit. It is important that it is well managed and based on the community's own cultural values and social structure. It should never be imposed from the outside.
However, it must take into account the needs and wants from travellers: there are too many examples of CBT initiatives that don't work because they don't answer to the needs of the market. Without commercial success, it can become a burden and lead to conflict or jealousy. It is important that there is good leadership and a democratic, fair and honest environment.

Coporaque community
There are four families associated with the tourism committee we work with at Coporaque. Here, the women take a leading role in organising tourism in the community. Visitors usually have a single night stay, although some stay for three days and two nights. Together, the community and visitors go hiking and horseriding. For many travellers, this is their first homestay experience and a chance to see Andean life. The community has used the extra income to set up a daycare centre, which has enabled local women to accept jobs in town or work on their land during the day.
What motivates you to take part in the project?
To share our living culture, share our daily life and give the visitors the chance to get to know our traditions and local culture. We show them how we live.
Does tourism have an impact on your community?
Yes it has a positive impact. It is improving the quality of life for the community's families and helps our youngsters to get different views and information. It also strengthens our cultures and traditions and makes us think about them.
What are your hopes for the future?
We hope to have more visitors so that more families in the community can benefit and that more children get the opportunity to study at university. We also want to rescue our language (Quechua) and lost traditions so we can share them with our visitors.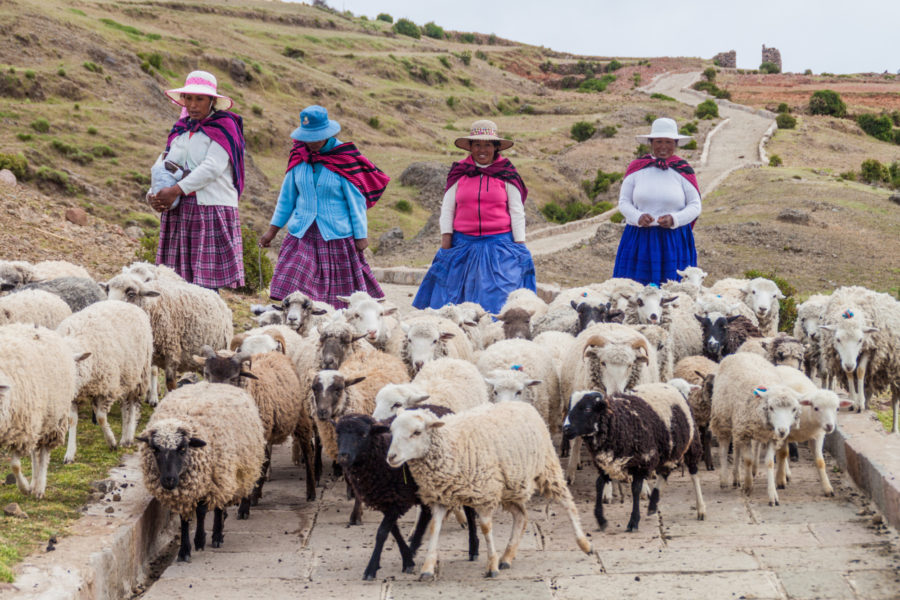 K'erenda Homet homestay
This family lives close to Puerto Maldonado and owns a lodge there. They are part of the Tambopata Ecotourism Corridor, an initiative that was strengthened a few years ago when the Interoceanic Highway was constructed. They run as independent accommodation, but also help other families who could be classed as competitors. They do this as they feel it's in their interest for these families to work with sustainably operated businesses.
As it's a jungle homestay, visitors take hikes into the forest and help the community with its conservation efforts. The family has won several awards for its reforestation work and reinvests some of the money in conservation.
Victor, Rosa and Kerenda
What motivates you to take part in the project?
After conserving the forest (from previous deforestation and contamination), the idea was to give national and international visitors the opportunity to visit it. This process has been a slow but steady one, starting with some volunteers that would stay for a while and help us with the restoration project, to researchers that would stay for several months and study wild animals and the impact the restoration project had on the environment.
We wanted visitors to get involved in family activities like farm chores, helping them to see the importance of working with the forest to create a home for the many species returning to our part of the jungle.
What do you think of the people who come and stay with you?
CBT has allowed us to have visitors collaborate and contribute to the family in a very natural way, combining their own culture with ours, without forcing them into anything. Every visitor has been an adventure — we have learned a lot together with them.
What are your hopes for the future of Kerenda?
Our community consists of several landowners along the ecotourism corridor and a small village. We need to remain organised and continue to help each other, making use of the resources we have planted and harvested ourselves.
Vicos community
We've been working with Vicos for 17 years and it has largely been successful, although not for every family. We started with seven families but they didn't see enough demand to sustain them all. So, one by one, families began to quit the tourism committee. There are now two well-maintained lodges that receive visitors, who can go hiking, make artisanal products and experience village life.
Pablo, Tadeo and Lucy Vega
What motivates you to take part in the project?
Personal development and the chance to conserve our natural and cultural resources. Working with tourism generates family income: with that I am improving the education of my children, generating employment for the community and helping more local families.
Does tourism have an impact on your community?
At the moment, I see no negative impact. However, there are some expectations to start more conventional tourism, such ass opening some tourist routes towards Quebrada Honda (the valley of Vicos).
What are your hopes for the future of Vicos?
We need to improve and develop more tourism products, so that we can also work with conventional tourism groups, adventure tourism and responsible community-based tourism — we could operate like a small business showcasing different destinations in the region.