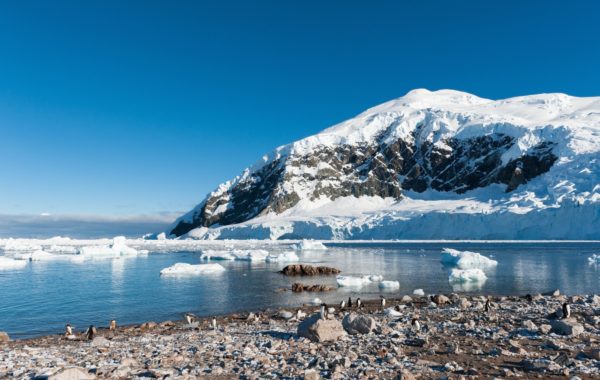 Antarctica
Expedition to the ultimate frontier
You don't take a holiday to Antarctica ‒ you make a trip of a lifetime. This colossal frozen netherworld is bigger than the USA. The sun doesn't rise for six months of the year and it's constant daylight the rest. It's the most untouched, alien place on our planet ‒ but the rewards are exceptional. Antarctica's landscapes are surreal: utterly immense rolling icefields, icebergs the size of stadiums, glassy seas deeper than a skyscraper.
Its wildlife is abundant and utterly unperturbed by people. Armies of penguins waddle across the ice, train-sized humpback whales and orcas breach from the inky depths, seals flounder on the snowfields. On a calm day, when the sunlight bounces off every surface, the silence is all-encompassing. It's like nowhere else on earth.
Antarctica travel guide
Download our travel guide and start planning your trip
Visiting Antarctica
Responsible travel to the White Continent
In this ever-shrinking world, where almost anywhere is just a plane ride from everywhere else, contemporary culture puts a special premium on the earth's last true frontiers. Those few places where mother nature still reigns supreme and the "wilderness" takes its original, true meaning.
And among those few final frontiers, where else is as remote and untouched as Antarctica? While the rest of the planet teems with humanity, this vast, silent continent at the absolute ends of the earth has been virtually untouched by mankind. A frozen wilderness, but one that is home to a surprising amount of terrestrial and marine life.
View this guide
Things to do in Antarctica
Our recommended experiences and activities
Navigating Drake Passage
If you're starting your voyage from South America, you'll spend two days navigating Drake Passage. You'll encounter giant albatross — and occasionally giant waves — as you await your first view of Antarctica's icebergs.
Penguins in Paradise Bay
Home to gentoo penguins and the occasional humpback whale, Paradise Bay is a must-stop on any Antarctica cruise. Come to see penguins diving off ice floes and huge chunks of jagged ice surrounding the harbour. Wrap up — Paradise Bay's temperatures remain below freezing year round.
Swim in Deception Island
Deception Island in the South Shetlands is an active volcanic island, creating warm soil that heats its waters. This allows you to take a unique opportunity to take a dip in Antarctic waters with ice surrounding you.
Get your camera ready at Lemaire Channel
Antarctica is a land of beauty, but perhaps the best views are reserved for the 1km stretch of Lemaire Channel, located between the mainland and Booth Island. It's so photogenic that travellers have nicknamed it Kodak Gap.
Postcards from Port Lockroy
This British research base was founded in 1944 and abandoned in 1962, and now operates as a museum staffed by volunteers. They operate the centre as it was in the 1940s, which means no internet or TVs, but you can buy and send postcards from one the most southerly Post Offices in the world.
Whale watching
Antarctica is one of the best places on earth to see whales. From orcas to humpbacks, minke to sperm, the relative isolation whales have enjoyed in the Antarctic means they are curious of ships and even approach them.
When to visit Antarctica
Seasons & climate
It will come as no surprise that Antarctica's climate is the coldest on earth — however, it's worth noting just how cold Antarctica is. The lowest temperature ever recorded on Earth, a decidedly brisk -89°C, was recorded at Vostok Station in 1983. Winds of 199mph blew through Dumont d'Urville in 1972. It almost never rains in Antarctica, rendering much of the continent technically desert, with precipitation and humidity levels on a par with the Atacama Desert in Chile and Death Valley in the USA. In short, it is not somewhere that you want to be caught unaware.
This unforgiving environment means that there is only a short window in which to visit the white continent. Unsurprisingly, this is in Antarctica's summer months between November and March. Summer in Antarctica is a relative term — temperatures rarely reach over 2°C, but the sea warms enough to melt the pack ice so that ships can reach land.
Month-by-month
November is the time to head to Antarctica if the untouched wilderness is what you want to see. Its natural beauty is at its stunning best; the icebergs are enormous, the landing sites are pristine and the snow caps are crisp. There are wildflowers starting to bloom on some of the more northern islands. It is also technically shoulder season, so there are deals to be had. Of course, the weather is always a factor when visiting Antarctica and it is more unpredictable in the spring, so some sites may not be accessible, and November is usually a little too early to see much wildlife.
High season is between December and January. December brings nearly 24-hour sunshine, almost untouched wilderness scenery and the start of the birthing season for seals and penguins, which continues into January. These two months are the best time to visit Antarctica, but they are correspondingly busy and expensive. It's a wise idea to book at least a year in advance.
February is still a viable time to visit and is the best time to cross the Antarctic Circle.
The chance to spot a whale increases in February, with humpbacks, orcas and minke whales all around until April, although much of the other wildlife will have gone out to sea by this point. March is the very end of the season; by the end of the month the temperatures have plummeted, the pack ice begins to form and the long nights draw in. Despite this, it is a great time to see whales as the water is clearer and the visibility at its best for diving.
Antarctica recommended routes
Antarctica trip ideas
Journeys with our recommended operators